30 Years Practice….
Part of my original rationale for becoming an architect was to be able to work directly with people, and translate their ideas into reality, not an employer's ideas. Thirty years ago, on Friday March 30th, 1984, I packed up my drafting tools  and left the architectural office where I had been employed for three years. A day later, I went out and purchased a parallel bar, a drafting table, and a drafting stool, and on Monday April 2nd, 1984, a  new Baltimore tradition of sorts was begun, as I started my solo architectural practice working from the dining room of my apartment on Murdock Road in the Anneslie neighborhood of Baltimore County.
At the time, I had two clients/projects with which to at least hit the ground running.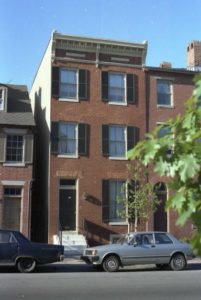 A late nineteenth century, three story Italianate  townhouse at 15 E. Montgomery Street in the Federal Hill Historic District of Baltimore City,  owned by the same client I had moonlighted with previously up the street at 47-49 E. Montgomery,  was to be renovated into two apartments, (right side image), while a small shingled bungalow on the grounds of the Debenbrook Estate in the Woodbrook area of Baltimore County was to become the new residence of a young couple moving out of Federal Hill, with the intent of starting a family, just downhill from the parents' residence. Little did I imagine that this bungalow would be expanded at least three more times over the next twenty years. (image below)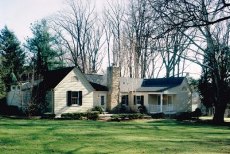 Thirty years and at least two recessions later, my practice now serves both Maryland and northeastern North Carolina; I'm still in Anneslie, but now I can also work from a second house location in Corolla, NC.
 The architecture world for me as a solo practitioner has totally changed from when I ventured out on my own; the  drawings are mostly 1's and 0's  in my computer, proposals are sent via e-mail, manufacturer's products are researched on the internet, I have this website and a Facebook page,  and an account on Houzz.com, but I still enjoy having a pencil or pen in my hand to communicate ideas on paper, and then see those ideas built to satisfy the needs and  wishes of the wonderful people I've been privileged to work with all these years.
So how am I celebrating thirty years of practice?  I've just acquired a license to practice architecture in the Commonwealth of Virginia, and the District of Columbia, so hopefully in the future, I'll be able to grow my service area, work on some more interesting projects, and meet more wonderful folks along  my commute between the Old Line and Tar Heel states.  Have license and laptop: will travel.