Additions and Alterations
Like people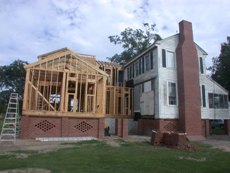 , buildings age, some more gracefully than others, depending on the quality of their original construction and materials, types of weather and usage they are subjected to, and how they are maintained (cared for) or not. At some point in time, they may may need to be updated for a new owner, or expanded because the original envelope is insufficient to contain the use. Perhaps  there is that  jewel of an old  house on a beautiful site, that needs more space to accommodate a growing young family, that will furnish it with some TLC.
In  the case of the Camden, NC Courthouse,  a National Register listed structur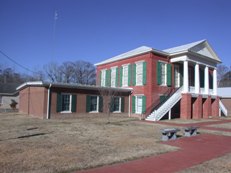 e, the Register of Deeds' Offices had outgrown their cramped ground floor location in the historic 1846 Greek Revival building,  hence the need for a compatible  addition and spatial reconfiguration to accommodate   250+ years of the County's  land and marriage records (right).
Except in the cases of certain neighborhoods,  resort locations, or structures in a historic district, tearing down and building anew is usually not an economically viable or legally allowed option,  so by adding on or remodeling,  the original building can in essence, be preserved and extended.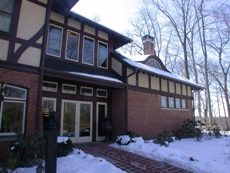 Sometimes, adding space can help support the care and upkeep of a historic dwelling whose usage has changed, as when Gramercy  Bed and Breakfast , built originally in the early twentieth century as a grand private residence in Baltimore County's Greenspring Valley Historic District, added more space for its wedding and catering operation, and two more B and B Guest Suites.
Many of the projects I see start with people who like their neighborhood, and like their current house, but would like to make it a little larger to accommodate a growing or extended family, or maybe provide more space for entertaining. Typically, I work with older houses that need updating or modifying to fit today's living patterns,  so often I am involved in  remodeling and expanding  Kitchens/Gathering spaces, adding  Bedrooms, Baths, Garages,and Mudrooms,  or maybe opening up existing living spaces to gain more light and improve flow through the house. Whether it's your house, or the court house, I begin with the existing structure and your budget, and endeavor to make the addition or alteration compatible,  i.e respect the original design,  and maintain continuity with it. My goal is to provide a relatively seamless transition between old and new.