Going Up? Elevator Addition in Suffolk, VA.
Although many years ago I designed an addition and remodeling of a farmhouse near rural Brookneal, VA., this is my first opportunity after obtaining my Virginia license to design a project in an urban setting in Virginia. I have been engaged by a retired couple in the Tidewater city of Suffolk to design a residential elevator addition to the rear of their two story, c. 1935 duplex, that is located on Linden Avenue in Suffolk's West End National Register Historic District.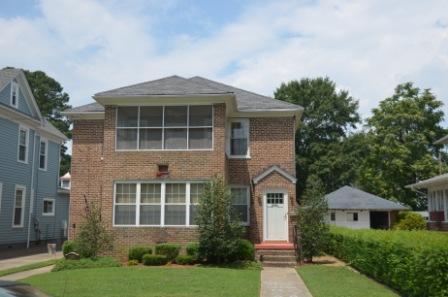 The duplex was built as  basically a mirror image on first and second floors; (other examples of this same type of dwelling in Suffolk can be seen on Broad Street north of  Washington Street)  the owners currently occupy the first floor unit, and relatives will eventually move into the second floor unit.
The elevator itself will be located on the rear of the duplex, and will require reworking of the existing rear roof line and exterior stairs. (image below)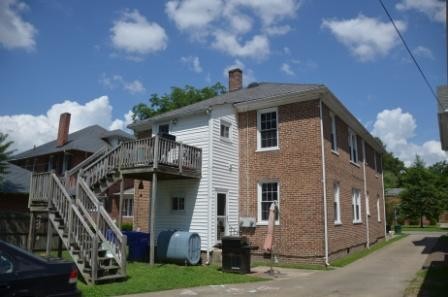 When I first met with the owners, I was pleasantly surprised to discover the existence of another Telephone Niche. This one, located in the first floor Dining Room, is recessed directly into the plaster wall, as opposed to the more ornate, prebuilt (millwork) unit I described in my previous post on May 13th.  The telephone here sits on a curved wood shelf, and there is a receptacle in the wall below.