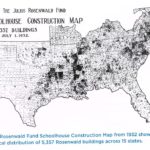 Between 1912 and 1932, through a unique collaboration between Sears & Roebuck President  Julius Rosenwald  and Tuskegee Institute's Booker T. Washington, almost 5,000 wood frame school buildings were built throughout The South to provide education for African Americans.
Continue reading
About a month ago (October 2016) I received an inquiry from Karen Henderson, the owner of a 1925 Craftsman Bungalow  in the Denver area, regarding whether I had ever seen a phone niche with a
fold-down seat and back
. I assured her I had not, and she was kind enough to share photos of her unique, folding seat assembly recessed into a wall  cavity (between two studs),  creating an almost prototype home phone booth (very similar in concept to a built-in ironing board cabinet).
Continue reading